[SCENE: An alleyway. A dark
figure in a trench coat emerges from the shadows...]
TRENCH COAT GUY:
[Whistles, then whispers]
Hey, Chill Man -- you here yet?
[BRAD CHILDRESS crawls out from behin
d a dumpster.]
CHILLER:
Fuck, man, I've been kneeling
on a used diaper for the last ... FUCK!
Ted Thompson!
Oh, fuck! I knew this was a trap!
TRENCH COAT GUY: Hey, calm down, man. I'm incognito.
[Takes off Ted Thompson mask.]


See? It's me, Brett. I'm a devious MF'er, man. I wore this in case we were followed. Nobody would believe Ted Thompson would be slinking around in alleys to meet with Brad Childress.
CHILLER: That doesn't make any sense. That doesn't make any sense at all. Why didn't you just put on a fucking hat?
FAVRE: I brought one. I'll put it on.

Hey, hold on, Chill Man -- why aren't we referring to each other by our code names?
CHILLER: Jesus -- you were serious about that, Brett?
FAVRE: Not Brett, dickface! Use my code name!
CHILLER: I don't even remember which one we settled on. Am I "Boss" and you're "Hogg"?
FAVRE: No, fuckwit -- I'm
Bo Duke and you're Luke Duke
.
CHILLER: Fine. Hey, Bo Duke.
FAVRE: Wait -- which one is Bo Duke?
CHILLER: Bo Duke is the one with brown hair. Played by Tom Wopat. Seriously -- we talked about this for a good 45 minutes yesterday. You told me about all of your favorite episodes.
FAVRE: Right.
[Pauses for a good 15 seconds.]
Then which one is Luke Duke?
CHILLER: The blonde one! Played by John Schneider. Come on, Brett!
FAVRE: Hey! It's Bo Duke, asshole!
CHILLER: Fine -- hey, Bo Duke.
FAVRE: Hey, Luke Duke. Thanks for meeting me in this undisclosed location. Over.
CHILLER: Dipshit, we're not talking on walkie-talkies. I'm fucking standing right here. You don't have to say "over" when you finish a sentence.
Anyway: you said we couldn't talk about this on the phone. So what's going on?
FAVRE: Here's the thing, Luke Duke: Bo Duke can't play ball anymore. My arm's falling apart, I'm really old, and I don't think my legs would hold up playing on concrete covered in carpet. Plus, if I signed to play with the Vikings, it's a guaran-damn-tee that the Packers would kick the shit out of our team twice. I'd be too excited, and
you've seen what happens when I get too jazzed up and want to show somebody th
at I've still got the goods
. Plus, I've been ridiculously overrated for about the last five years or so; when's the last time you saw me put the team on my back and lead them to victory? I just can't do that anymore. So I can't sign with your team.
CHILLER: Oh. Well. That's kind of surprising, Bo Duke. I thought you wanted to play one more year.
FAVRE: Well, I do, but I really only want to play two games. Don't get me wrong -- I'm such a prima donna that I'd willingly trash the remnants of my legacy with the Packers just for the chance to stick it up Teddy's shithole two times. I mean, I'm really that dumb. I'm really that short-sighted. I'm really that insecure. But I'm not going to do shit in those other 14 games, and I don't really want to get benched for Sage Rosenfels after my third consecutive three-pick performance.
CHILLER: Hmm. So if you don't want to play, why'd you ask me to meet you?
FAVRE: Here's why.
[Reaches in pocket.]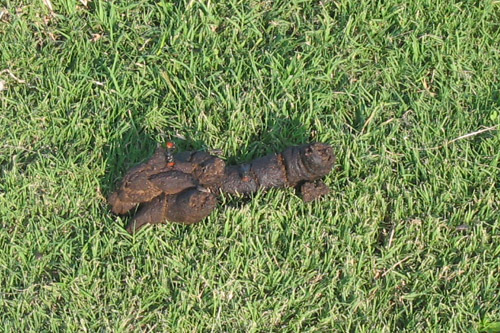 CHILLER: What the fuck! Is that dog shit?
FAVRE: Yep. I want you to put this on Ted's doorstep and light it on fire.
CHILLER: Jesus! You're supposed to put it in a paper bag, you fucking moron! How long have you been walking around with loose dog shit in your pocket?
FAVRE: Couple days. So: will you do it?
CHILLER: Lemme get this straight: you asked me to meet with you so you could give me some dog turds to put on Ted Thompson's doorstep?
FAVRE: Yeah. I thought about asking you to bring me his head on a platter, but that was a little too Biblical for Ol' No. 4.
CHILLER: My God, you're a sick, sick man.
FAVRE: Hey, man, this shit is starting to melt in my hand. You gonna help me out or not?
CHILLER: Fuck! That's disgusting! Don't you have a Ziploc bag or anything?
FAVRE: Nope. Carrying it around in my pocket is more gunslinger-y. More reckless. Plus: I'm comfortable in my Wranglers, and even more comfortable with dog shit in the pocket of my Wranglers.
CHILLER:
[sighs]
Fine. Hand it over.
FAVRE: Thanks, Luke Duke. Shit -- there's my ride. Gotta bail.